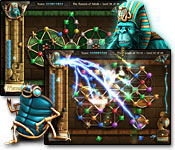 Saqqarah is now on BigFish and I am very happy to report that on the second day after the launch we've made it to the top ten. Till the last minute we didn't know how the market would respond to the game and now we feel a big relief,  although it's of course too early to tell if the game will be a great success over time – but all initial signs sure look encouraging!
Anyway the game is now an exclusive title for BigFish and it is currently getting serious promotion on their website.  What more could a developer want? In fact I could think of something, especially  after some recent events…
BigFish is a very dynamic and aggressive company – and most of the time it's good as they give competitive services to their customers, earn a lot of money for the developers and help expand the casual games market. Unfortunately an aggressive strategy sometimes might get out of hand and you might unintentionally cross the line – that's what I believe happened in our case.
Prior to launching  Saqqarah, BigFish issued a press release (http://www.pr.com/press-release/92381) which you can read here:
Big Fish Games Launches Ancient Quest of Saqqarah

Seattle, WA, June 26, 2008 –(PR.com)– Big Fish Games™, the world's leading online destination for casual entertainment, announced today the release of Ancient Quest of Saqqarah, a new casual game available exclusively from Big Fish Games.

Ancient Quest of Saqqarah is a Puzzle game with motion picture quality in story, sound, and script adding a new level of superiority to classic Match 3 play.

In the game, players travel back to Saqqarah, an ancient Egyptian dwelling, where an eclipse transpires over a mystic pyramid every thousand years. Below the pyramid's sands, a magical underground oasis is filled with puzzles, treasures, and legends. Players are tasked with fulfilling an old Egyptian prophecy to stop the evil god Seth from breaking out of his arcane tomb prison. In order to succeed, players must master seven distinct types of puzzles along with mini-games spread over 500 hand-crafted levels.

Players begin in the temple of Isis, swapping neighboring tokens by clicking on three or more items of the same kind. Throughout several stages, the objective is to light the entire board by making combos over the dark areas. Ancient Quest Saqqarah is an innovative Match 3 game in the way it lets players make matches vertically and horizontally in one simultaneous move adding an entirely new experience.

After five strong matches, an explosive fireball is hurled into the board by Khufu, the summoned monkey, for a "Mega Sweep." Players also experience bonus points with the Pharaoh's Combo and Desert Combo. When earned, a Shuffle option is available to reconfigure the board for additional matches. Unparalleled high-definition graphics along with motion picture-quality sound create a highly-immersive Puzzle experience.

Download Ancient Quest of Saqqarah today at Big Fish Games. The trial version can be downloaded for free; the full version is available for $19.95 (U.S.).

Big Fish Games is a global leader and innovator in the casual games industry, producing and delivering the world's best games and game experiences. Big Fish Games Studios develops and publishes the industry's leading brands. Its portfolio of hit games includes Mystery Case Files®, Hidden Expedition™ and Azada™. Big Fish Games' portal at www.bigfishgames.com distributes more games worldwide than any other online site and offers visitors a rapidly expanding selection of content by launching A New Game Every Day!TM
I'm sure you're thinking – and yes, you are correct – that we didn't take any part in preparing this statement as it makes a terrible and wrong description of Saqqarah mechanics and (what's much worse) it doesn't even mention that the game has been developed by Codeminion! So far we have received one letter from BigFish stating that it was first time they did a similar press release and that in future developers would be kept in the loop. But this is of little comfort to us as the harm has already been done. I have already sent a letter stressing our utmost disappointment…
That was the personal part, but wait – there is much more interesting ahead! Recently we have learned that much is going to change in the landscape of exclusive game releases where BigFish is king. Soon, If you are going to give a single publisher even a short term exclusivity (two weeks for example) most other portals will not accept your game at all. IWin has written about it here as they are implementing this strategy in full force as of August 1, 2008. During the last week we've already received several emails from other major publishers who want to follow.
I hope that we manage to launch Saqqarah on most of the major channels before the new standards settle, but for what it is worth I personally vote in support of such changes. To be frank with you, exclusivity deals are only a tip of the iceberg in this case. Most developers and publishers don't approve of certain distribution strategies. As it turns out some distributors (BigFish again being the finest example) are shipping insane amounts of games at discount prices. This turns out to be especially bad for developers and their brands and basically it is bad for the whole industry.
I regret that I have learned all of this only recently. If we had realized it earlier we would probably change our publishing strategy with Saqqarah or maybe even with StoneLoops. After all, if you think about it for a second we, developers should give preference to portals that support full price sales, and treat anyone who sells our games at discount rates as lifecycle portals that don't get our game from day 1. In fact this is an advice we recently got from one of the major networks and I think we're going to follow it with our future titles.
I'm not sure if this industry wide shift is really going to change everything very soon, but I keep my fingers crossed and I hope we can turn the boat around. I find it very interesting what will happen in the coming months and I wonder how BigFish will respond. Personally I don't think they will easily give up their aggressive strategy. They can afford much better deals in exchange for exclusivity and they have the means to compete, after all they are a true big fish…